The Rise of Virtual Events with Hayley Lemon
Season 3 – Episode 5
Crisis Series: The event industry has been destroyed by the outbreak of COVID19, and the lockdown and social distancing the ensued. This brings urgent changes to the event industry and forces marketers to pivot towards virtual events and digital events.
My guest today is Hayley Lemon, the National Event Manager at News Corp in Sydney.  Hayley is a talented event marketer, with over 15 years experience, and has been on the front line in dealing with the cancellation of in-person, live events.
We discuss:
The rapid transition from physical events to virtual events
Softwares and technologies for online event management, presenting and marketing
The future of events and whether hybrid events will be the norm
Transcript
Fiona:
In the 2020 Crisis Series of This Marketing Life, and I am chatting with Hayley Lemon, the National Event Manager at News Corp in Sydney.
A graduate of the National Institute of Dramatic Art, Hayley has spent her 15-year career specialising in Events, working with leading tech companies. Her passion for innovation and desire to deliver cutting edge events saw her expand her specialty into digital events and marketing, and in 2017, Hayley created her own consultancy called Hayley Lemon Digital Marketing.
The combination of event experience and digital marketing in the tech sector uniquely positions Hayley as a thought leader. In the wake of the COVID19 crisis and events getting cancelled into the foreseeable future, there is a fantastic opportunity to reimagine events and connect with audiences in an innovative way through virtual event technology, which Hayley and I will be discussing today.
Welcome to the show Hayley.
Hayley:
Thanks Fiona, great to be here.
Fiona:
Yes, these are very unique times that we are experiencing isn't it?
Hayley:
It is for sure, it's once in a lifetime.
Fiona:
Let's hope so.
Hayley:
Yeah, let's hope so.
Fiona:
So, I mean, how are you going? How are you surviving? How are you dealing with this crisis?  Are you working from home?
Hayley:
Yeah, I'm working for News Corp at the moment, and we have all been sent home, everybody who can do that job from home has been asked to do so. So it's all about the Google Hangout meetings, the Zoom meetings, connecting to your team in a digital kind of way. And then on a personal level, I've got a five-year-old so…
Fiona:
Oh wow.
Hayley:
I'm home schooling while working full-time as well, has been a challenge, that's for sure.
Fiona:
I can't imagine… a five-year-old…wow. You've been learning a lot during this lock down, I take it?
Hayley:
Yeah, I have. It's always a juggling act, but everybody's in the same boat. So it's kind of funny, you know, we're all trying to be on these online calls and meetings and then somebody's kid will go off. We're doing the best we can.
Fiona:
I know, I was in the middle of a conversation, and I swear there's a guy outside with a leaf blower he just comes as soon as my…
Hayley:
Yeah, they just know don't they.
Fiona:
Yeah, they know that we're trying to talk to people online, so… No, it's been very strange and it's been strange to see this crisis affect literally everyone on the planet at the same time.
So, I mean, it was strange. We had bush fires, and we had bush fire smoke and I… My friends around the world are messaging going, "Oh, how are you doing? Dealing with the fires and the smoke?" And it was in Australia and then all of a sudden we went from bush fires, and smoke to the biggest health crisis of our lifetimes, us being in lockdown again…
Hayley:
A good start to 2020…  it's like groundhog day, every day. We need to just reset the clock.
Fiona:
Oh my goodness, yeah, it's like nothing I expected or anyone expected, I think…
Hayley:
Yeah, it's been a very, very challenging time for a lot of people, a lot of businesses, so I…
Fiona:
Yeah, and events.
Hayley:
Yeah and events has definitely been one of the areas that has been massively affected.
Fiona:
Yeah, they're on the front line.
Hayley:
Yeah, and a lot of my event colleagues, they are freelance as well, so… there's not a lot of support, a lot of from the government, because there are all freelancers, like you would have with the bigger organisations being offered the redundancy packages, all the special packages that everybody is getting at the moment.
So what needs support are freelancers and events because…
Fiona:
Events has been very much a gig style economy, you know, people go to contract a contract is a very much a thing and I don't think the government really thought about it when all this was happening.
I mean, actually, just to back up a little bit, how were events doing last year, how were events doing in 2019?
Hayley:
Yeah, events always change.
Last year I was working with News Corp and we had a host of successful events, that generated massive pipelines and we had a big team that now is all being restructured and it's just not what it was. So this is why we need to re-think, that's why we're rethinking our whole strategy. And we actually launched our first digital event DECODED…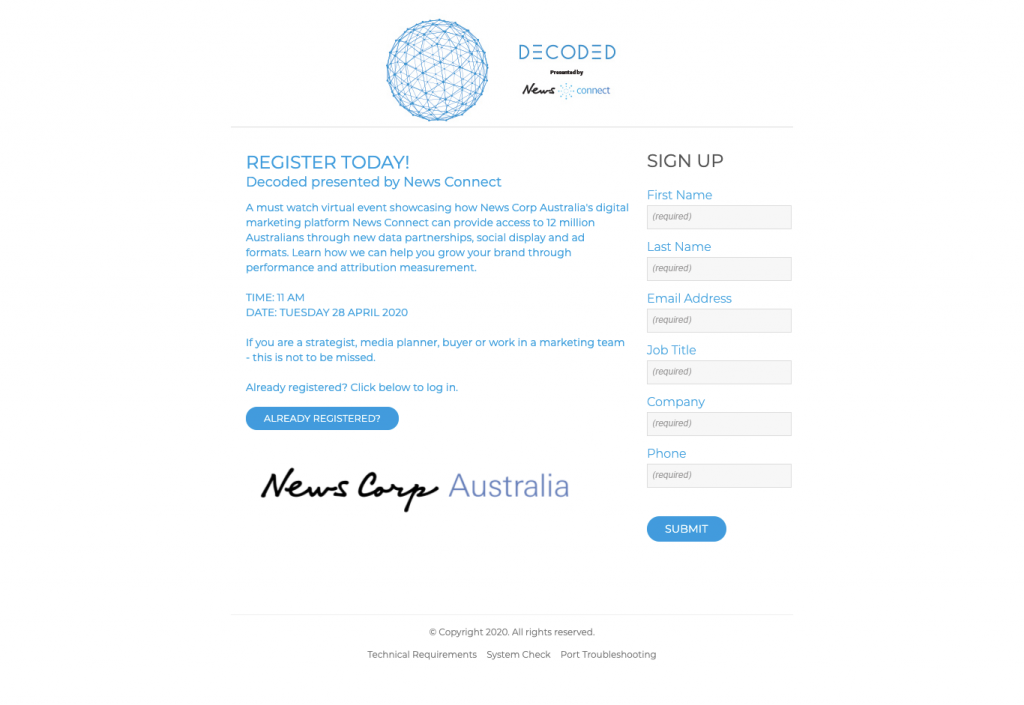 Fiona:
Yeah, I saw that last month.
Hayley:
Yeah, like it was on Tuesday.
Fiona:
Oh okay. I don't know what day it is…
Hayley:
It's a week tomorrow, that we launched it, but the exciting thing is that we're the first news company to have launched a digital event.
All of the other tech companies have been doing it, like Salesforce and Google, Microsoft. But yeah, we were the first news outlet to jump on the bandwagon, so it was great.
We've had some amazing responses from that which are all trackable, and off the back of that success. I've just had two meetings today for some upcoming ones, in a month, so it's going to be busy for us in our team.
It's just a different way to deliver a messaging.
Fiona:
So, that event, that you just had me when did you start planning it? When did you know you had to move to online events?
Hayley:
Yeah, this was always going to be a physical event that was going to tour nationally, so we had already done the set-up in terms of some of the content, and like who the guest list would be, and the venues kind of booked and all the food and beverage and everything. So before, I think, What is this a seventh week of being home.
Fiona:
I've lost track.
Hayley:
Yeah, I think it's the seventh week of being home. Before we actually got instructed by the government to go home. I had a feeling that it would happen and so I got my…
Yeah, I got my team on to looking up ways that we could deliver the event digitally, so we were actually really well-positioned on-the front foot, to pivot and change what we were doing just into a virtual event landscape, so…
Fiona:
Had you held virtual events before?
Hayley:
No, I hadn't held a virtual event before.
But I have had experience in the last two years of helping clients with websites and doing all their digital marketing and everything. So I guess, from my background in events and doing digital marketing, it wasn't a great leap to go from, to a digital event.
So it's kind of lucky that I've had that experience that I can just have easily pivoted to deliver what we did in the time frame that we had, because it was a very short time frame, that this all happened.
Fiona:
Yeah, what is your normal timeframe, for preparing for an event?
Hayley:
Three months is ideal is what I tell my clients is ideal, that just comes down to venue is a big thing.
Venues, you know, are always booked out well in advance. So…
Fiona:
The good ones are.
Hayley:
Yeah, so securing the right venue for the event, is a very key thing. Some of our biggest events that we work on at News Corp we plan a year out, a year ahead of schedule. I don't like to produce anything that's under three months.
But the beauty of digital events is that not only the budget shrinks because I think it was a third of the cost to produce this digitally, as opposed to physically, because you don't have all of the overheads, like your venue rental, your food and beverage etc.. But also the timeframe can be shorter to execute it. So, I'm kind of saying, like going from three months is what I'm comfortable producing a physical event to six weeks to produce an digital event.
We can do it in a month, which is what we turned around DECODED in, the event that we produced last week, but that was us really working weekends and late into the night.
Fiona:
Oh my goodness. That was a fast turnaround.
Hayley:
Yeah, I don't wanna put that pressure on the team if I don't have to, you know.
Fiona:
Makes sense. How many events do you normally have in a year?
Hayley:
It differs probably about 12 big ones across… nationally across the business. Yep, and then there's other smaller little ones that go on of course in a lot of last minute briefs…
Fiona:
Of course, yeah. Events, I've noticed as an industry, I've been… Well, I've managed some events myself. I must admit. They're a big challenge, to make all the… juggle all the pieces to work together seamlessly and play out…. like a dance almost…
Hayley:
I know. We might produce 12 a year, and it would work out beautifully if everything was a month apart, but it happens at three or four fall on the same timeline. So it's… that project managing, and managing multiple things at the same time.
Fiona:
Yeah, actually that's a good point. I mean, how do the… When is the event season, is there an event season? I mean obviously so like January and December are probably closed off?
Hayley:
No, it all starts to ramp up as the weather gets warmer, starting September, you go into the real summer months, and then you've got all of the Christmas celebrations and New Years and then you roll into January, all the big events, all the sporting events, you know, generally in the summer months, you got all the summer festivals, music festivals…
Fiona:
So, yeah. And then, normally by March, April, this is when the big tech events start.
Hayley:
Yeah, exactly, it just depends on what division you're working for, and if your B2B or B2C, I guess.
Fiona:
Sure. Are your events B2B, or B2C?
Hayley:
Yeah, I work in the trade marketing department, so everything that we work on is B2B.
Fiona:
Okay, and who are you targeting from a business perspective for these events?
Hayley:
We can target anybody from CEOs, CMOs, agencies, media buyers. Yeah, just people who wanna do ad spend with us.
Fiona:
Great, and to backtrack to DECODED. What was DECODED about?
Hayley:
DECODED was presented by News Connect. So it was about our digital offering in the space, and what clients can expect if they run campaigns through our digital platform
Fiona:
Wow, yeah, is the digital platform, the most important one, I guess, given everything is digital, at the moment?
Hayley:
Yeah, I mean, it's going to be a large focus for a lot of companies, and I think digital is the same as digital events. The tracking that I can have the metrics that I can have access to after running the event, that we did last week as opposed to running the physical event.
I've got a whole print off of analytics from the event..
Fiona:
Oh I love analytics.
Hayley:
Yeah, it just gives me the ability to hyper-target all of those clients and understand their behaviours, and what they did in the journeys that they took… all of their results.
Whereas if you go to an event, there is kind of a way to track people around your event, but I think you would only do that in the big conference style event spaces. For the events that we run, there'd be no point in doing it.
So you don't really understand where people have gone, how long they've spoken to somebody for, you know, if they've taken away a takeaway from the events.
Whereas all of our takeaways are now downloadable whitepapers, so we can see who's engaged with it. We can see click-to-call buttons… all the call-to-acton buttons. Like… "Get in touch with your sales rep here"
You can track the whole user journey with digital and that's the same with our clients who use us, that you can see all of their user journeys from the digital perspective, as opposed to if you run a print campaign, you don't get that whole digital analytical report.
Fiona:
True those, having those kind of metrics is amazing.
Hayley:
It makes it very easy for me to get budget.
Fiona:
True, because… you can show how everything has played out.
I guess when you're holding a live event, what are the number one metrics when you're holding a live event? Or are they just the same, just tracked differently?
Hayley:
Like our KPIs, is that what you mean?
Fiona:
Yeah.
Hayley:
Well, we can always… even with a physical event we can always tie sales opportunity back to the funnel. So it's all about, it's all that revenue at the end of the day, and how much you've made from an event, which you can still track in a physical event, but it's just a lot easier to do in a digital event.
Fiona:
No, yeah, from what you mentioned, that sounds that kind of information, that kind of data sounds amazing.
What are the challenges in terms of having a digital event? What are the downsides? The things that become a lot trickier?
Hayley:
Yeah, there's a lot of things to consider and I guess we have, done trial-by-error with this first event that we've just produced.
So the data and privacy sharing is a big one. For example, for this event, we created a guest list from Salesforce that we use, and everybody who was sent that link, we are allowed to, as News Corp, contact those people, right?
So when we send them the invitation, and then they register through the third party provider, we're allowed to see that information.
But if people sign up through a social link, for example, like DECODED was posted on LinkedIn, it was posted on our social channels, across Instagram and Facebook. If people who weren't on that original invite list, registered to attend the event from those social channels, we actually don't have permission to go and contact them.
Fiona:
Oh no.
Hayley
So that then, defeats the purpose a little bit because we don't have access to those new viewers
Fiona:
Yeah, how do you get that permission then?
Hayley:
Yeah, this is what I have to look into… I need to solve this issue.
I think what we'd have to do is host it on our trade marketing website, and people register to us… to us directly as opposed to them registering through a third party.
I think that that is the correct answer. I've got the team looking to it 'cause that was my exact question, because I wanna obviously turn all of those other people who weren't on our guest list into customers.
Fiona:
Of course, data and privacy is well… is on everybody's mind at the moment, as we now live our lives online, we attend events online, everything online, and we're now concerned who's got our data, who's tracking what, who has permission to do what?
I think we're more aware of this now than ever.
Hayley:
And, it's about, if you're choosing to partner with a third party provider to produce these events for you, it's about really understanding and educating yourself on the data privacy act and, you know, if these people follow the GDPR rules and legislation, and this is a whole thing like… that I am still not across, and I don't understand the whole world that I'm trying to get educated on, but this is such a big concern for digital events.
Another concern is around everybody's user experience. Everybody has different loading WiFi speeds. Or is somebody going to get a bad experience because they can actually load the page that you're asking them to look at.
Fiona:
Welcome to NBN…
Hayley:
Yeah, how do they navigate around your site? Is your site user-friendly enough, because if people don't have a good experience, they're not gonna come back.
Fiona:
That's true.
Hayley:
There's a lot of things that you've got to look at. And we're kind of coming up with a document about best practices to online events. Again, this is all new to us. So, I'm talking to everybody in…
Fiona:
You're learning as you go…
Hayley:
As I go, I'm talking to everybody, I'm making it my business to read every article I can… Or attend every seminar or webcast or virtual event that I can, just to kind of pick and choose what I like that or this work well or this didn't. So it's all fresh.
Fiona:
That's all we have to do with the moment…seriously.
Hayley:
I'm just being a massive sticky beak.
Fiona:
Absolutely true. Because there is no playbook for what happens to our entire society when a health pandemic comes up, seriously, everyone is writing the playbook now as it happens.
Hayley:
Yeah, and I think because these digital events are proving to be so successful, I feel that when events do come back, and, you know, we have the cure, like the injection… the solution to COVID and when we can attend events again, there will always be a digital aspect to events, like for ever more.
Because if I wanna run my event in Sydney, and I don't have the budget to do it nationally, then I can still stream it live and have all of Australia or all of the world included in this product offering.
So I think that's a really…
Fiona:
Wow, this might be… Yeah, this sounds like it's gonna be a massive booster for online and digital vents in the future.
Hayley:
Yeah, definitely.
So I'm very, very excited to see where… where the future kind of takes us, and to a certain extent, the B2C aspect is a little bit more exciting for me because I'm seeing all of these AR (augmented reality) applications that companies are using to showcase products, for example.
Fiona:
Oh yeah, what have you seen?
Hayley:
If you have a sneaker, say Adidas or Nike release a new sneaker, they will send you a code to your phone ,which you can download, and then you can actually use your phone to view the sneaker, so the sneaker might appear on your couch or on your bed or… whatever it is.
It's like a little gimmicky thing it's very cute. I'd like to incorporate that into our events, but I haven't seen really the commercial application. I can definitely see it from a consumer point of view, but I…
Fiona:
Yeah, not yet, you don't know, maybe?
Hayley:
That's what I'm hoping to do. Maybe it's something to do with entertainment or… I don't know, I have to think about that a bit more. Again, everything's new, and it's just ideas and brainstorming and… Yeah, it's fun.
I really like the innovation that's being born out of this crisis.
Fiona:
Yeah, I was thinking about that over the weekend, actually, all the new ideas I've heard. Now that the panic as settled and the uncertainty is settled, I think now, people are realising they've got this time to think about new ideas and how can we make this better, and how can this be made better?
Hayley:
Yeah.
Fiona:
And before, I think digital and online events was very… lacklustre, or they had a very… certain procedure, and now we've got people like yourself thinking… "How can we make this a better user experience? How can we make the registration a great experience? And also meet those data and privacy rules?
And then once they register, what does that flow look like? And then when they log on to the event, what does that look like? And I think now, more questions are just being asked about… "Should things be the way that they are?"
Hayley:
Absolutely, and you know it's been so nice, that the conversations I've been having with my peers and my colleagues, everybody's kind of banding together and we're all just throwing stuff against the wall and seeing what sticks.
And it's actually really been a nice experience that has brought people together because a lot of people have so much time on their hands now we're not organising stuff.
So I've seen these gorgeous little applications that my friends have been making to try and make some AR maps or something or some bar graphs to liven your weekly meetings.
Yeah, I'm just liking the sense of community that it's kind of bringing and all of the thought leadership and innovation.
Fiona:
It is. It's the silver lining of the craziness that's going on.
Hayley:
It is. And then there will be a time this will come to an end, and there will be a time that we come out of this, and I'm just looking for that silver lining.
But in the meantime, I'm just getting my head around all the data and the privacy and the security and things that I have never had to deal with or know anything about. So it's like learning a different language…
Fiona:
Yeah, it is. No, I swear it is.
And I mean I spent looking at the full spectrum of the user experience in a digital event, are you gauging people's feedback on the end of the event, or getting suggestions from participants?
Hayley:
We didn't for this one, but I am… Yeah, it's funny you say that, I'm going to create a survey, just to see what people's opinions are, what we could have done better.
For DECODED got some feedback directly back from clients who said that it was really a fun experience, because we put the guest in situ, so we actually put them in a virtual theatre. So instead of it being…
Fiona:
Oh wow.
Hayley:
So instead of it being like a traditional webinar that you log into, and it's just like a presentation on your screen.
People rocked up. They saw the outside of the building which was like News Corp and DECODED branded, then when they entered, they entered through to a virtual lobby which had signage…  the same as you would do at a conference.
And then they click to go through to the auditorium and in the auditorium, they could see the stage, they could see the logos, they could see the seats with people sitting on the seats… everybody was like 1.5 meters apart as well for COVID.
And then there was the presentation screen, so when they clicked on that, that was the presentation, that then opened up to large screens, and then after the presentation they went through to another room again, which was like our Digital Connect demo bar.
So then they could ask questions, and see the hype video and everything, so, it was kind of done it as a virtual event, as opposed to like a webinar style which was new to a lot of people, which was exciting.
Fiona:
No, that sounds fantastic… It sounds different. What kind of software produces that experience?
Hayley:
There's heaps of suppliers out there. So, we used a company called Intrado to produce that..
Fiona:
In..trado?
Hayley:
Yeah, but there's heaps of others like Ubivent who are based in Germany. There's Communique in the States, there's a lot and lots of providers out there, so that's one way to do it.
I know. The name of a company that I really like is, Spaces.
And the companies that I've just mentioned, they will have predetermined templates you can select from… So it's really good to work with them if you have a very short timeline that we had for this event. And then you kind of just dump your logos on top about… So, but this other company…
Fiona:
Oh, wow. So it's like an event template, and you just fit your logos and presentation and the rest is all mapped out?
Hayley:
Exactly.
Whereas this other company, Spaces, they will custom build you something, like an AR world.
So you could have your event under the sea, you can have your event on Mars, on the Moon where your imagination is limitless. To where…
Fiona:
I love it.
Hayley:
So I'm actually looking at producing another event with them but they can do live feeds as well and they can do one-way streaming or two-way streaming. All of these things that I'm just learning about as well.
So, you know, for example, a live broadcast on TV… like the ARIA awards.
You'll have some pre-filmed packages to say, These are the like… these are the four finalists, and then you cut to the live envelope opening, and the winner is, and then it cuts to the room of the winner, and then the winner goes up to the stage. All of that is vision mixed, and then sent to the TV, like broadcast.
We can run events like that, but broadcast it to a website instead of the TV so that's what we're looking into now… I just wanna try out a couple of different producers. Now that we've done all of our research, we've kind of selected the top four that we like and we're gonna use them to roll out a couple of different events and then kind of see which is the best fit.
So it's definitely fun.
Fiona:
This is so exciting.
Hayley:
Yeah I just actually love the research component, the R&D component, and finding the best solution for our business. It's something that I really enjoy.
Fiona:
The funny thing is, normally we don't have time to dedicate that much energy into research because we're kind of… We're doing everything we can, while doing what we've been normally doing but now everything is so disrupted, that all of a sudden and, also we're not commuting which also helps as well…
But we have this time to do this valuable stuff and people are rediscovering the value of doing marketing research.
Hayley:
Yeah, it's actually a special time to be able to do this and I'm actually lucky to have a team that have time to do it so…
Fiona:
How big is your team?
Hayley:
Our team in trade marketing is 10, but our event team is 3 people, so I'm pretty lucky.
Fiona:
You are incredibly lucky. So those virtual event platforms, do they feed into Salesforce and marketing automation and stuff? Or do they have their own in-built marketing automation?
Hayley:
They have their own in-built marketing automation.
Again, like, there's all the security and the data and blah, blah, blah, that you have to go through. So for me to get this executed, I had to have many, many, many meetings with legal and all of our teams and their legal teams, and it's News Corp, we have to do our due diligence and make sure everything is above board and bang on.
Fiona:
Of course, to make sure… I know you can't mess around with the data and privacy anymore.
Hayley:
Absolutely not. And everybody's held accountable for it, so it's very important.
Fiona:
It's gonna be really fascinating to see what is gonna happen with events, like, whether we go back, even when the vaccine comes, whether we go back to doing the live events or whether we have a hybrid model of some physical events, some online events?
Because at the end of the day the networking aspect of meeting people and that socialisation it… can that be replicated at a digital event?
Hayley:
There are ways that you can select an avatar that you have at the event, and there are ways to connect with other avatars while you're at the event.
And you can build like your own social networking lounge, where people can come in and meander and discuss afterwards.
Nothing digital, is ever, ever going to replace face-to-face.
Fiona:
That impromptu social chat that you have at the muffin breakfast buffet at the…. whatever event is…
Hayley:
And that's why events will always have a place because it's about getting the right people in the same room. And, you know, giving them a bit of food… food and bev, and I, they have a really good experience.
So that's why I think that the future of events will still be the physical event, but I think that they may be scaled back.
So instead of touring them nationally, they'll just tour maybe in Sydney and Melbourne, maybe Sydney, Melbourne, Brisbane east coast, and then you will have the rest of the people dial in.
The people that we're targeting, if we're targeting CEOs or CMOs, sometimes they're too busy to come to an event, so it's just really good to have that option if they want to dial in. That it's there and they can get the information.
Fiona:
Yes. Well, I've seen actually some events for some companies I've worked with in the past. They do a live stream of their actual live event, so you can watch it for free if you watch the live stream, but then if you don't watch the live stream, you then have to pay a small amount to download the video files afterwards, which I've seen work really well.
Hayley:
Is that more B2C though? Or is that still B2B?
Fiona:
That was B2B.
Hayley:
Interesting. See again, like it's all food for thought. We're probably for our stuff, we would never charge anybody to access the information.
Fiona:
No, no, no.
Hayley:
But, it's all good things to consider, for different courses for different horses.
Fiona:
No, because the thing is, your events are part of a bigger experience with News Corp right?
Hayley:
Of course, yes.
Fiona:
So, because they're fitting into… You're obviously wanting to get new clients on and drive revenue that is for other publications, so everything is inter-connected with what you guys are doing?
Hayley:
We have a mission and vision statement and then everything kind of feeds into that, you know? Yeah.
Fiona:
It's weird but exciting times…
Hayley:
And taking it one day at a time, and being as proactive as we can and just really informing and educating ourselves on what everybody's doing, and just being sticky beaks, so we can be delivering the best in class.
Fiona:
No, it's absolutely true. And I think even closely tied to events, a lot of businesses are looking at their email list and their contact list because they're realising… people like you said, the people who you've got permission from to invite to your events, fixes a lot of problems, rather than going out cold and inviting people called through these other platforms to your events?
Hayley:
People are in a world of pain at a moment. Because I think there's just been new rules around data anyway.
And if you haven't contacted somebody in the last three months and you don't have permission to do that anymore, under some new rule, this is from memory, what I heard.
So we've done a whole refresh of our clients. We've made sure we were all good in regards to that, but I think some other people might be in a starting from scratch again to build that clean data pool.
Fiona:
Oh, I think so, I think like a lot of businesses could easily pivot and work from home. A lot of businesses had never downloaded Zoom before or had never used Skype for Business or Microsoft Teams. So I think you've got the learning of the social distancing.
And everyone remote and working from home, then you've got the learning of.. Okay, we need to pivot from physical events to digital events. What tools do we need to know there? But I think there's a massive wave of learning just is going on everywhere.
Hayley:
That's right and a lot of businesses weren't… I'm lucky, like at News(corp), we always were on… we always had Google Drive before, so we could always work remotely, or I could dial in from my home computer or whatever.
But I know a lot of companies wouldn't even be set up with that. They would have all been relying on Microsoft Outlook and not cloud-based software. So I think a lot of those people are in a world of pain at the moment.
Fiona:
Oh, no, of course, I had a friend who works at a business and they don't have laptops.
Everyone had a desktop in the office and all of a sudden, the boss was figuring out how to get people desktops to people's houses or whether they needed to buy some people laptops, it was just a whole thing they had considered before…
Hayley:
It's really shaken up a lot of businesses. And it's just tough, it's really tough times for a lot of people.
Fiona:
No it is, but like you said, from this toughness and from this pressure is going to come some great research, and some great ideas, and some great new tech…
Exactly, exactly and I must admit, I've dug into a lot of online events that have almost put me to sleep.
Hayley:
No, you have to engage, you have to be engaging and entertaining and it's the length as well. You wanna short sharp, snappy anything under 40 minutes I think it's pretty good.
Fiona:
Yes, yeah, well I think it's about the quality of the content.
Hayley:
Of course. Quality and time.
Fiona:
No, I know, I must have been… I look forward to logging into an event where I can walk through a door and choose a seat, and who knows what's gonna come out of that.
Maybe when I sit down and my virtual seat at the end of the session, someone will hand me a virtual feedback form and I will be able to fill it in right then.
I mean, who knows what is gonna come out of this, but it's so exciting to see and like you said, maybe even though we're gonna return to physical events, there's going to be this new cool hybrid model of cool online events, and fun live events, blended together throughout the year.
Hayley:
And just keep posted to my LinkedIn 'cause if we've got any events coming up, I'll definitely be sharing those links through Linkedin.
Fiona:
Oh yeah, actually, well that's a very, very good point. If somebody wants to find out, get in touch with you or find out what's the best way? Is it your LinkedIn?
Hayley:
Yes. National Event Manager for News Corp.
Okay cool, no, I'll make sure I put the link on the podcast page.
Awesome, well thank you so much for your time today, I've been taking notes, I've learned so much, I've learned so much about online events. I'm gonna go and look up some of these platforms. I'm gonna go and see what's going in, and I'll even put the links to the platforms on the podcast page.
Hayley:
Wonderful. I think some other good resources, you know, I'm always on Artshub, I'm always across Pinterest and Instagram as well, I think, as much research as you can do from… what's it called?
Concrete Playground and Time Out Sydney. Just be across all the arts and pop culture as well really helps to see whatever events are doing
Fiona:
I absolutely… 'cause you never know where you're gonna the cool ideas from, or you never know who's gonna be..
Hayley:
Yeah, where you can do brainstorming. I love all the creative process.
Fiona:
Amazing. Awesome.
Well, thank you for joining me today, thank you for coming on the podcast. I'm sure the listeners are going to get so much out of hearing you talk about the future of events.
I hope you're okay with your five-year-old and the lock down. I hope you get through it.
Hayley:
Yes.
Fiona:
Hopefully we'll talk again when all this passes.
Hayley:
Thanks Fiona. I appreciate your time. Have a great day.
Fiona:
Thanks Hayley. Bye.
________________
Provide Feedback
What would you like to hear about in regards to Marketing Management? Fill in this 2 minute survey [qsm_link id=1]HERE[/qsm_link]
Sign Up to Receive New Episodes
[wpforms id="32″]
---